"What have we got for below the fold?" Asked Rollo.
A voice piped up: "Wimbledon. That Frenchy won again. The one with the short skirt. And Daniel's got a luv-er-ly pic."
On cue Daniel walked to the front of the room and presented a picture of Suzanne Lenglen to Rollo who in turn showed it to the room. It was met by wolf whistles. No one bothered apologizing to Poppy.
From The Jazz Files.
Our heroine's first day at work on The Daily Globe was on 4 July 1920, the day after the Wimbledon Finals. The men's singles were won by Bill Tilden who defeated Australian Gerald Patterson (2–6, 6–3, 6–2, 6–4), and was the first American to ever win the title. Tilden also became the first player to reach 10 finals at a single Grand Slam event. His record stood until 2015, when Roger Federer reached his tenth Wimbledon final. Tilden's personal life, however, was mired in tragedy and his closet homosexuality (illegal at the time) led to scandal and turmoil, including rumoured liaisons with ball boys.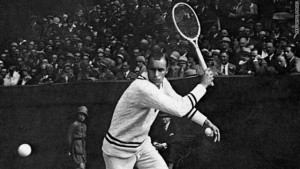 The women's singles were won, again, by 'the Frenchy in the short skirt' Suzanne Lenglen, considered by many the greatest French sports woman of all time. Lenglen won every year between 1919 and 1925, apart from 1924 when she had to withdraw in the quarter finals with whooping cough. She was a fashion icon and paved the way for women to wear shorter, looser fitting clothing on court, causing a scandal at the time. She was also renowned for smoking cheroots and drinking brandy between sets. Despite this dubious diet, she won an incredible 241 titles, with a 98% winning record over her entire career. She partied as hard as she played, and, in The Jazz Files, she makes a cameo appearance at Oscars Jazz Club the same evening Charlie Chaplin arrives. She died of leukemia on 4 July 1938, after going blind. She was only 39.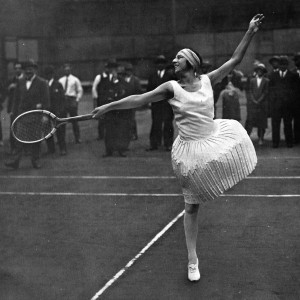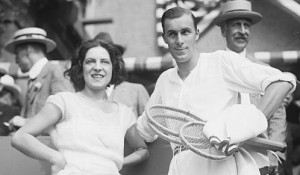 For more on Wimbledon in the 1920s visit the official Wimbledon archive.