Trip Fiction video review of The Art Fiasco
Here's a lovely video review (vlog) of The Art Fiasco by Trip Fiction. Enjoy it with your sound turned up!
LoveReading loves The Art Fiasco, October 2020
I'm always delighted to receive reviews from Love Reading UK who have been so supportive of the Poppy Denby series from the beginning. I'm delighted to say they loved reading The Art Fiasco!
A wonderfully atmospheric and engaging murder mystery set in the 1920's, featuring a charismatic amateur sleuth […] Fiona Veitch Smith does a wonderful job of balancing cosy and charming with murder and mayhem […] The Art Fiasco really is a gloriously readable slice of historical crime fiction.
Read the full LoveReading review here.
Writing Magazine feature, March 2020
My lovely (sadly now former )editor, Jessica Gladwell, and I are were featured in Writing Magazine talking to Dolores Gordon-Smith about my journey to publication and the Poppy Denby novels.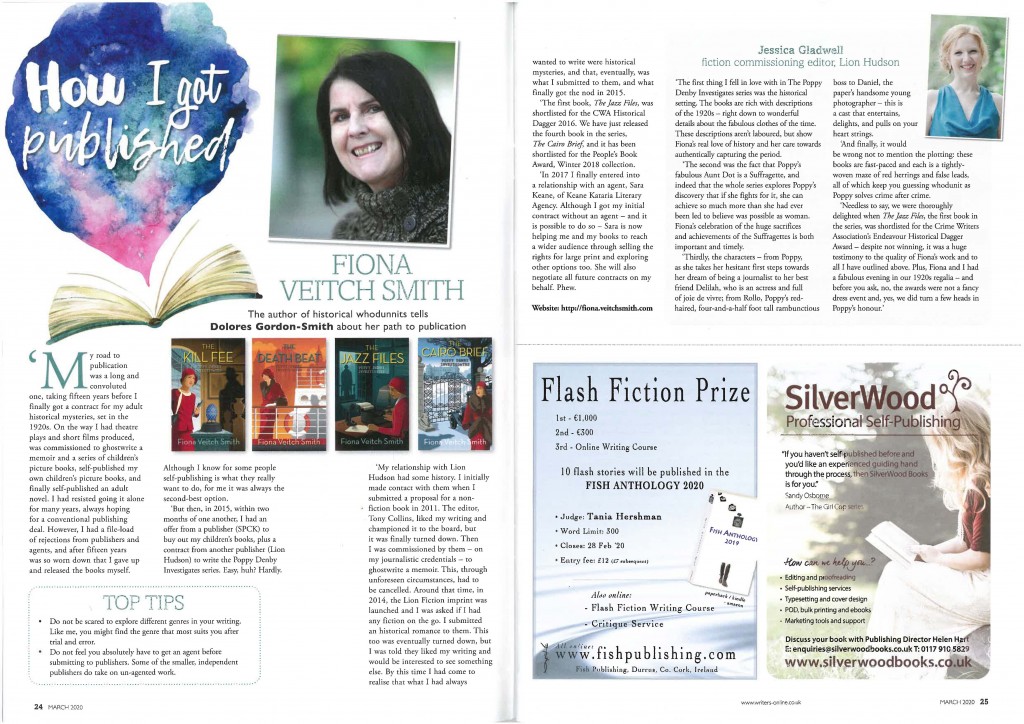 Mystery Monday with Miss Jane
The lovely Miss Jane featured the first two books in the series in her Mystery Monday video review. Lovely to hear that Poppy has another fan.
Promoting Crime Fiction's review of The Cairo Brief
"Atmosphere is as important as the slick plot and engaging story in this novel and it added hugely to my enjoyment. The misty gardens at Winterton Hall, the British Museum and surrounding streets in snow, all underpinned by that first spooky scene in the newly discovered tomb provoke delicious chills and put the reader very firmly in Poppy's un-sensible shoes. A delight from start to a rewarding finish."
– Dea Parkin, Secretary of the Crime Writers' Association.
"Poppy Denby is on top form solving the mystery surrounding the ancient Egyptian mask of Queen Nefertiti. Highly recommended!"
Dolores Gordon-Smith, author of the Jack Haldean murder mysteries, about The Cairo Brief.
"Intrepid Poppy Denby visits a country estate not unlike Downton Abbey in this caper. It's great fun following Fiona's crew of early 20th-century reporters as they seek scoops and solve murders on the side." Deb Richardson-Moore, author of The Cantaloupe Thief, The Cover Story and Death of a Jester, about The Cairo Brief.
"Thoroughly enjoyable mystery. Murders, sinister figures, a cursed Egyptian mask – and a seance! All the ingredients for another superlative Poppy Denby investigation." A. J. Wright, award-winning author of the Lancashire Detective series, about The Cairo Brief.
"Fiona Veitch Smith, where have you been all my life? Poppy Denby is delightful, the plot rocks, and the 1920s era is perfectly evoked. British mystery fans, you want to read this. You really, really do." Cassandra Chan, author of the Bethancourt and Gibbons mysteries, about The Cairo Brief.
Publishers' Weekly review of The Kill Fee
Smith (The Jazz Files) returns to formidable and spunky Poppy Denby, arts and entertainment editor for the Daily Globe, in this inspirational whodunit set in post-WWI London. As Poppy goes from covering a Russian art exhibit to looking for a murderer and a missing Fabergé egg, she takes on charming and possibly nefarious Andrei Nogovski of the Russian embassy. With help from Rollo Rolandson, her boss; fellow reporter Ike Garfield; aunt and suffragette Dot Denby; and best friend Delilah Marconi, Poppy follows leads and discovers that people aren't always what they seem. Interspersed with Poppy's story are flashbacks that center on a young Russian aristocrat and the nanny who saves her from the fate of the rest of her family. The audience follows them as they cross the Russian landscape and wait to see how their story intersects with Poppy's mystery. The complicated plot, involving a myriad of both White and Red Russians, is offset by the list of characters at the beginning, reminding readers of numerous important names and their allegiances. Smith weaves together a diverse cast, including both male and female characters in positions of power, and depicting a variety of ethnicities and abilities without resorting to stereotypes. Embark with upstanding, uplifting Poppy and her friends on a mystery involving jewel thieves, Russian royalty, murders, sword fights, car chases, and secret tunnel. Full review here.
"What a delight to escape into the world of the irrepressible Poppy Denby in this cleverly-plotted debut."
Ruth Downie, author of the Medicus series of Roman mysteries, a New York Times best-seller, about The Jazz Files.
"Manhattan, beware! Formidable reporter Poppy Denby enjoys a luxury voyage across the Atlantic. Her indefatigable and entertaining search for truth reveals the seediness and glamour of 1920s New York."
Frances Brody, author of the Kate Shackleton mysteries, about The Death Beat
"A delightful period romp, neatly sprinkled with the choicest historical detail."
D.J. Taylor, author of Bright Young People, and Man Booker Prize nominee for The Windsor Faction, about The Jazz Files.
"Fiona Veitch Smith has chosen a fascinating period as the background for her plot. The story opens with plenty of exciting action and the characters are lively and believable."
Ann Granger, author of the Campbell & Carter series, about The Kill Fee
"An intriguing mystery, fizzing with energy."
C.F. Dunn, author of Mortal Fire, gold winner of the Foreword Book of the Year Award (romantic suspense), about The Jazz Files.

The CWA Endeavour Historical Dagger judges' verdict of The Jazz Files
This first entry in a new series featuring a female journalist in 1920s London is, like its heroine, buoyant and stylish but with a core of steel. Poppy Denby arrives in London from the north of England determined to make it as a journalist and gets her chance when she has to finish a murdered reporter's investigation into the death of a suffragette. The Roaring Twenties are beautifully evoked.
An atmospheric, lively romp through 1920 in this wonderfully blended mix of crime fiction and historical fact […]The Kill Fee, full of the dastardly and dazzling just roars along, it is a thoroughly captivating and entertaining read. Liz Robinson, LoveReading.co.uk Click here for full review.
The Jazz Files was a featured book of the month in January 2016 on Love Reading UK. Here are a selection of reader reviews. For the full reviews visit Love Reading UK.
Edel Waugh – 'I adored it! I hope there will be many more books featuring Poppy and the fabulous Dot!'
Cath Sell – 'It is 1920 and Poppy Denby is our intrepid investigator in London, fresh from the North. She lives with her suffragette Aunt and decides to become a journalist…..and so the fun begins.'
Olivia D'Silva – 'A good old-fashioned mystery thriller!'
Sarah Musk – 'An exciting Suffragette murder mystery set after the First World War. Poppy Denby is a tenacious heroine who becomes involved in reporting on a sinister family plot to silence one of their own.'
Ruth Paterson – 'The Jazz Files is an interesting and at some points thrilling mystery.  It is the first in a series, Poppy Denby Investigates.  I found it hard to put down and can't wait to read more.'
Phylippa Smithson – 'Feared this would be a 'fluffy' lightweight but found it remarkably engaging most notably for capturing many of the social changes of the 1920s.'
Linde Merrick – 'What a delightful introduction to a new female detective Fiona has given us in this first mystery of the Poppy Denby series.'
Nicola Underwood – 'Brilliant read. Well written, entertaining and addictive.'
Siobhan McDowell – 'The heroine of this novel is Poppy Denby and she is a delightful addition to the Sleuthing Set!!'
Jocelyn Garvey – 'A great read, really enjoyable. The book moves along at a pace and is difficult to put down.'
Northern Insight review
"An absorbing, well-written mystery. Smith expertly captures the essence of the era through illustrious description and knowing historical detail."
See page 72 of Northern Insight, October 2015
Bepop Spoken Here (specialist jazz blog) review
A really good read, a romping page turner, but with an unmistakable dark side.
And here is a brief account of the editor's visit to one of my talks. 'Flappers, fops and murder: writing crime fiction in the jazz age'.
An interview with blogger Claire Musters on the writing of The Jazz Files:
Having been captivated by Fiona's latest novel, The Jazz Files, I was delighted when she agreed to an interview. It's a fascinating account, full of honesty and advice for writers and aspiring writers alike. So please do read this and tomorrow's installment for a behind-the-scenes look at how Fiona's new crime series has been birthed and crafted – and what life as a writer is like for her. To read the rest of the interview visit Claire Muster's blog.