The 1920s saw the the most revolutionary change in women's fashion in history. As the post-war youth endeavoured to throw off the stays of pre-war society it was mirrored in the move from extremely structured garments of the Edwardian period to the loose-fitting, freer dresses and slacks of the new age. Hemlines were raised, waistlines were dropped and sleeves, at times, abandoned completely. Hair was cut short or pinned so it appeared short. The very short, sleeveless 'shift dress' became more fashionable a few years into the decade, although I have Poppy and Delilah wearing them in The Jazz Files as early as 1920.
When Poppy goes to Oscar's Jazz Club and meets Alfie Dorchester (while Delilah flirts with Charlie Chaplin), she is wearing a 'vandyked' hem. Here is an example. The actual dress she wore was taken from Jayne Shrimpton's Fashion in the 1920s which was red satin with a cobalt blue, art deco sequined overlay. Despite the difference in colour this magenta dress is very similar in design. Note the swirling geometric shapes and the fingers of fabric at the hemline (the vandyked hem) that so scandalised arts editor Lionel Saunders in The Jazz Files.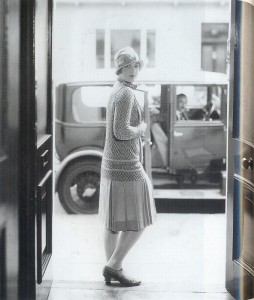 Day wear was more conventional with coat, hat and gloves still de rigeur for ladies about town. Under her coat, Poppy might have worn something like this in her day to day job as a journalist. Note the cloche hat with the low brim, the jersey knit drop-waisted dress and T-bar shoes. Colours were generally neutral for day, although in book 2 in the series, The Kill Fee, Poppy is wearing a bold turquoise mackintosh to reflect her more confident approach to life.
Men's fashion on the other hand did not go through such a drastic change. Apart from the avant garde dandies of the Bright Young People movement, daily wear for men remained the staple suit. However, cuts and styles varied. The sombre frock-coat or 'trenchcoat' became anachronistic and mackintoshes and light-weight overcoats were favoured. Suits were less formal and the pin-striped blazer and boater became fashionable for recreation. Bow ties and braces were worn over 'shirt sleeves' and did not have to be accompanied by a waistcoat – although they often were. Bowler hats, fedoras and Hombergs were worn outside.
Daniel Rokeby, press photographer at The Daily Globe might have dressed similar to the gent on the left. Note the fedora hat, three-piece suit and tie. The gent on the right has a bit more attitude than our Daniel, and would likely have been the choice of attire for editor Rollo Rolandson.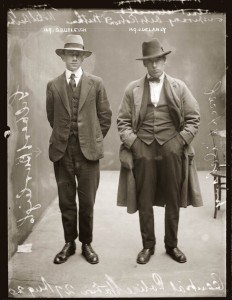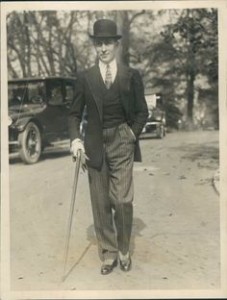 In The Jazz Files Alfie Dorchester, socialite and young man on the ritz, would have been a bit more dandy and would very likely have carried a cane or umbrella. He of course would never have driven such a conventional motor, but I couldn't find a picture of a dandy in front of a Bentley

In the evening he would have worn white tie and tails with jazz shoes or 'spats' (white fabric coverings to keep shoes clean). And may, possibly, have worn black eyeliner which was considered theatrical rather than an indicator of sexual preference. Note the dance partner in this photograph is wearing her hemline below the knee. This was quite acceptable in the 1920s and it is a misnomer that all dresses were the short shift types as illustrated above. As today, hemlines went from ankle to above the knee. OK, not quite like today, we can go a lot higher …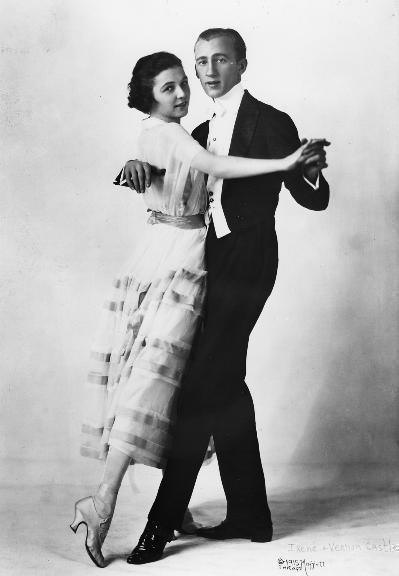 For further information see:
Jayne Shrimpton's Fashion in the 1920s (Shire Publications, 2013)
Charlotte Fiell & Emanuelle Dirix's Fashion Sourcebook – 1920s (Fiell Fashion Sourcebooks, 2012)
For a veritable feast of fashion, including make-up, hair and apparel, see the Fashion Era website.